PACKAGING, PACKING – WRAPPING
APAM, a tailored work company (formerly called sheltered workshop), has extensive experience in packaging and wrapping of products of all kinds.
This handling service is geared towards companies and start-ups in a wide variety of sectors: consumer goods, food and non-food products, cosmetics and parapharmaceutical products, banking sector, etc.
We also handle goods for communities, associations, administrations, municipalities, etc.

OUR STRENGTHS

Simple or more complex handling

Small or large volumes

Short lead times

Quality control

Food packaging (AFSCA, Organic)

B & W printing of labels: list of ingredients, use-by date, validity date, batch number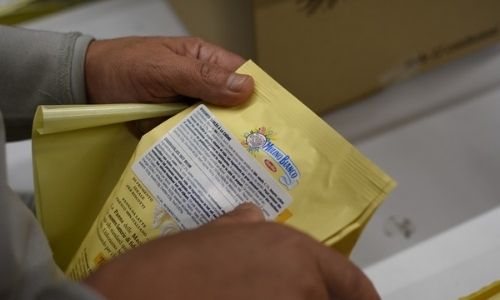 A range of handling operations, from the simplest to the most complex
– Sticking of labels: simple, precise position, straddle, on rounded edges, etc.
– Assembly and filling of displays
– Unpacking, repacking, repalletising as per your list
– Gluing or inserting samples
– Wrapping in packages of defined numbers
– Film Wrapping of samples, of duopacks, of magazines, etc.
– Assembly and wedging of boxes from flatbed to be trimmed
– Quality: product conformity
– Sorting according to list or product characteristics
– Counting of products
– Packing according to your address list
– Preparation of gift parcels, Christmas baskets
– Inserting & packing of gadgets
– Folding, gluing, creating presentation folders
– etc…
From the smallest to the largest volumes…
APAM has a team of 60 people dedicated to packaging. This means that we are able to handle requests from 100 pieces to well over 100,000 pieces.
This size allows us considerable flexibility in reallocating resources to the emergencies that require them.
… with short lead times
The more advance notice we have of a new work-to-do, the earlier we can fit it into our schedule. But we all know that this is just in theory. The reality is that our clients often need us to be responsive immediately. APAM's ambition is to deliver in the shortest possible time, thanks to the size of our teams.
Quality control
Before starting any production, the process is designed according each worker's individual capacity as well as fitting control points at various stages. Our supervisors and some workers are specifically designated for quality control. This control is proactive: often, we find flaws in the goods received from customers. We don't just pass on the information to the customer, we immediately look for a remedy and suggest it.
Some of our customers also entrust us with work where the sole purpose is to check the quality and dispose of the defective products.
Food packaging
APAM meets FASFC standards for food packaging. We have an air-conditioned workshop and a 120 m² air-conditioned "cold room" warehouse. Thanks to the implementation of our ORGANIC label, we can also handle all your ORGANIC products.